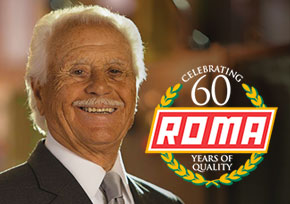 The story of Roma starts with Louis G. Piancone who left his home of Corato, Italy, and headed for the United States in 1951 at the age of 20. After several years working at a delicatessen in New Jersey and delivering cheese, Piancone decided to pursue his own American dream and opened a deli in Bradley Beach, New Jersey, in 1955.
After noticing a need for wholesale distribution of quality Italian products in the area, Piancone switched his focus. In 1964, he sold the retail side of his business and began importing the Italian products he knew and loved to sell to area restaurants. Roma Food was born.
Over the years, Roma became the number-one supplier for pizza restaurants with its selection of imported and domestically sourced products that were selected specifically to meet the Italian operators' needs. Customers and associates alike looked up to Mr. P for his strong principles, unmatchable work ethic and willingness to give Italian immigrants like himself a chance.
In 2008 Roma became part of Performance Food Group, making the heritage and quality Roma was known for available to a nationwide audience. Today Roma products are sold both under Roma label and under the Piancone label through Performance Foodservice. We are proudly celebrating the 60th anniversary this year.
From imported pastas to authentic-style gelato, there's a full suite of products to choose from, and Performance Foodservice buyers still go to Italy every year to source the newest, best products. Our team of Italian-food experts also attends the International Pizza Expo in Las Vegas, Nevada, every year to greet customers, serve delicious pizzas and educate about the Roma difference.
To learn more about Roma products, visit PerformanceFoodservice.com.